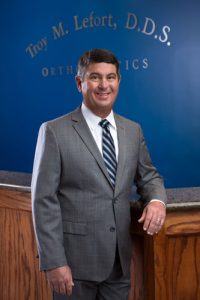 Dr. Troy M. Lefort was born and raised in Cut Off, Louisiana. He completed his undergraduate education in biology at Louisiana Tech University, and he received his Doctor of Dental Surgery (DDS) from the LSU School of Dentistry in New Orleans in 2000. Dr. Lefort then completed a post-doctoral residency in advanced general dentistry at LSU and entered into family dentistry in DeRidder and Leesville, Louisiana, for two years before starting an orthodontic residency at Columbia University in New York. In June 2005, he completed his two year post-doctorate training in orthodontics. Dr. Lefort and his wife, Jerry, moved to Lake Charles shortly after graduation, and he began his private practice. To stay abreast of the latest advancements in orthodontics, Dr. Lefort maintains active memberships with the American Association of Orthodontists®, the American Dental Association®, the Louisiana Dental Association, the Southwestern Society of Orthodontists and the Louisiana Association of Orthodontists. He looks forward to creating your healthy, beautiful smile.
Dr. Lefort is married to Jerry Dale Lefort. The Leforts have two children: a son, Jack, and a daughter, Alayna. When Dr. Lefort is not bending wires and straightening teeth, he enjoys the outdoors, fishing, hunting and being involved in his children's sports and activities.
Meet Our Team
Our trained, skilled, friendly and compassionate team is here to help our orthodontist provide you with excellent orthodontic care in Lake Charles and Sulphur, Louisiana. Our team members will treat you like family the minute you walk through the door, and they are here to answer all of your question and ensure a comfortable visit. You can meet the Lefort Orthodontics team below, and we hope you will call our office for an appointment for yourself or your child.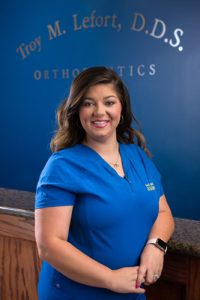 Caitlyn joined our team in 2020. She graduated as valedictorian of her class at the Oak Park School of Dental Assisting and went on to earn her EDDA the following year. She is always willing to learn new things and help where she can, or just lend a listening ear. She tries to solve problems by listening to both sides of an issue and coming up with the best solution for everyone.
Caitlyn appreciates the friendships she has made with our team and patients. She always tries to understand things from the patient's perspective and does whatever she can to give them great experiences. Her favorite thing about Dr. Lefort is that he understands the value of family and takes care of his employees as if they are family.
Caitlyn and her husband, Austin, have been together since 2013 and have been married since 2017. They have two sassy daughters, Emberleigh and Cambree. In her spare time, she works at her home woodworking and craft business with her husband and spends much of her time outdoors hunting and fishing with family.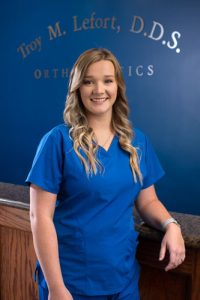 Alyssa
Treatment Coordinator
Alyssa has been with Lefort Orthodontics since 2021. She makes our new patients feel at home and comfortable during their first visits and loves the fact that our team has fun at work, so it never feels like she is just at a job.
Alyssa always looks forward to going home after work to play with her daughter and see her fiancé.  She also enjoys finding new music and planting flowers.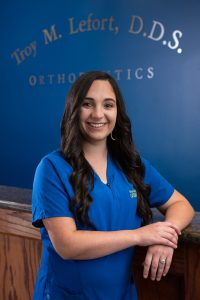 Hannah P.
Financial Coordinator
A member of our team since 2020, Hannah is a graduate of Sulphur High School and the Academy of Acadiana. She stays on top of insurance issues, keeps track of our patients' accounts and helps our patients understand the ins and outs of their insurance. She enjoys being close with her coworkers and seeing all of our patients' smiles.
Hannah and her fiancé, Kolby, have three children: Caroline, Kinsley and Kamille. She enjoys hunting and spending time outside with her kids.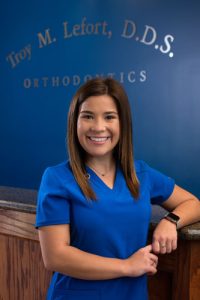 Natalie
Front Office Coordinator
Natalie graduated from South Beauregard High School in 2021 and joined Lefort Orthodontics the same year. She began attending Sowela for her dental hygiene prerequisites and plans to transfer to Lamar State College to pursue her dental hygiene degree. She always maintains a positive and professional attitude and makes sure that our patients feel as important as they are. Dr. Lefort and the team have made her feel welcome since her first day. She appreciates the way that everyone at the office wants their team members to be successful. She has found the environment at Lefort Orthodontics to be conducive to growth and excellence. This is a place where our team does its best to ensure that each patient is satisfied.
Natalie still lives at home with her parents and younger brother, and her family is extremely close. She always looks forward to spending time with her boyfriend, Gavin, and enjoys traveling.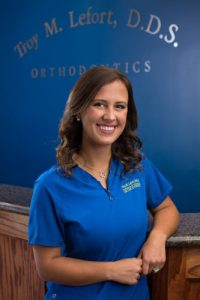 Shelby
Front Office Coordinator
Shelby comes to us from Sam Houston High School and the Academy of Acadiana where she earned her dental assisting degree in 2019. She has been with our office since 2020. She enjoys coming in every day to a job she loves! She takes care of things at our front desk by answering phones, scheduling appointments, greeting patients and taking payments — sometimes all at once!
During her down time, Shelby enjoys riding four-wheelers with her husband, Kollyn. They have two dachshunds named Scooter and Skipper.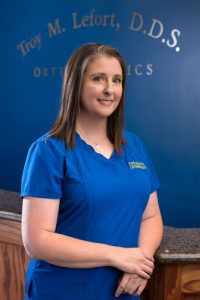 Jeannie
Lead Assist & Lab Tech
Jeannie has been with us since 2019 and is a 1995 graduate of Johnson Bayou High School. She loves the atmosphere at Lefort Orthodontics. Dr Lefort is very easy to work for, and she feels appreciated every day for the work she does.
Jeannie has lived in Carlyss since 1996. She was a stay-at-home mom for eight years and has been in orthodontics since 2011. She has five children, including one who is married, and one grandson. She also has two cats: Rosco and Mama Kitty. She enjoys baking and decorating cakes, attending her children's athletic activities and spending time with her family. Jeannie's faith is very important to her, and she is always available for anyone who needs to talk.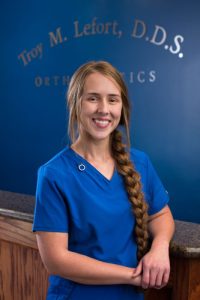 Brianna
Orthodontic Assistant
Brianna is a 2015 graduate of the dental assisting program at Lamar State College Orange. She joined our team in 2021. She is a team player who helps out wherever she can and enjoys seeing patients who are satisfied with their treatment results. In her spare time, she loves cooking and baking.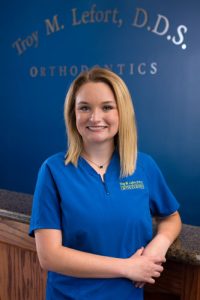 Hannah M.
Orthodontic Assistant
Hannah was homeschooled and was trained by Dr. Lefort and the team at Lefort Orthodontics. She started by shadowing at our office in January 2020 and became a part of our team later that year. She enjoys helping out in various roles around the office, including assisting the orthodontist and making patients feel welcome and safe. She likes having a boss who works with her and makes the team laugh, and she loves seeing how excited our patients are when their braces come off.
Hannah is the oldest of three children. She enjoys doing cheer, swimming, shopping, hiking and playing dominos with her family on Sunday nights. She can always be found with a coffee in her hands, singing the national anthem at sporting events or singing at church.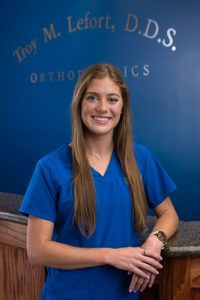 Jaelyn
Orthodontic Assistant
Jaelyn is a graduate of East Beauregard High School and the Oak Park School of Dental Assisting. She has been with our office since 2020. She assists Dr. Lefort and her coworkers. She loves the wonderful work environment and fun atmosphere at our office. She enjoys seeing our patients' reactions during treatment and when they see their new smiles.
Jaelyn's parents live in Dry Creek, Louisiana. She has one sister and three dogs. When she is not at work, she looks forward to spending time with her dogs, drawing and riding four-wheelers.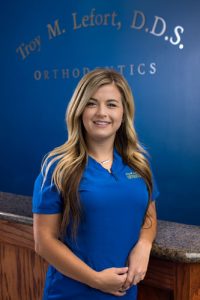 Kaitlyn
Registered Dental Assistant
Kaitlyn earned her dental assisting degree from Unitech Training Academy in 2013 and joined the Lefort Orthodontics team in 2021. She assists our orthodontist and helps give our patients perfect smiles. She likes the energetic and fun environment at our office and Dr. Lefort's positivity.
Kaitlyn's parents live in Texas, and she has a daughter and older brother. Away from the office, she enjoys cooking, floating the river, riding jet skis and doing anything on the water.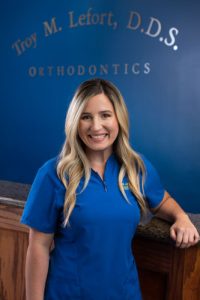 Skylar
Orthodontic Assistant & Clinic Coordinator
A member of our team since 2020, Skylar graduated Westlake High School in 2016 and the Academy of Acadiana in 2019. She enjoys many things about Lefort Orthodontics, including seeing the excitement our patients experience when they start and finish their smile journeys, working with her awesome and caring boss, and helping the team maintain a professional atmosphere at the office while still being friendly. She works hard every day to enhance our patients' experience at our office.
Skylar's family includes her boyfriend, Derek, and their two boys with four legs: Frank and Louie. She likes being on the water, and her hobbies include baking, running and wine tasting.